Fun at The Faux Feathered Classic
Fun at The Faux Feathered Classic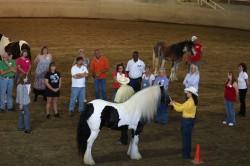 "We loved it." "It was fantastic." "Great handouts." "Loved Felicia's tips and demos." "Thank you judges Hipsley and Connor."
The first Faux Feathered Classic, hosted by Stillwater Farms, was a great success. We had over thirty attendees, some with horses and some auditing, from all over the country! Our judges were Wayne Hipsley and Leslie Connor. Clinicians were Marvin and Felicia Britt. Honey Rubin exhibited Austin in English Pleasure and Dressage. June Villa brought Romeo who exhibited in driving. Felicia and Marvin demonstrated In Hand, Trail/Obstacles, and Western Pleasure with Summer Rose and April Rose.
We started the day with discussions about conformation led by Wayne Hipsley. Then we went straight into showing In Hand, not only learning about conformation but techniques on how to present your horse to the judge. We worked different patterns and also worked on the triangle. Those auditors who did not bring horses practiced with the demonstration horses, which included Summer Rose, April Rose and Mia from Stillwater Farm. The next session was on Showmanship and again we learned tip after tip on how to present your horse, conditioning, and exactly what to expect in the class. We discussed and practices different patterns. Showmanship is a great class for beginners. The class is judged on the exhibitor and the horse is merely a prop (albeit it a well groomed and conditioned prop!) From Showmanship we went to Trail/Obstacles, which is another great class for beginners. There was an entire course set up of different obstacles. We spent time on each obstacle with all the horses and exhibitors working, critiquing, and practicing. Then we would move on to the next Obstacle. It was a great chance to really practice the best techniques and learn what the judges penalize and reward on each obstacle. Additional handouts included more patterns to practice at home. Exhibitors were able to practice with demonstration horses and everyone agreed that this was one of the best sessions of the morning.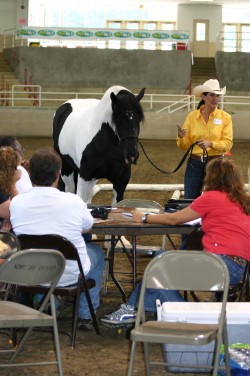 We took a break for our catered lunch and discussions continued over a delicious Southern lunch. After our lunch break we went back to the business of Gypsy Vanners and showing with Western Pleasure demonstrations. Each discipline/session lasted well over an hour while the judges discussed in depth reasoning behind their judging and most importantly, what they look for in a winning performance - both from horse and rider. We continued with English Pleasure and Dressage where Honey Rubin and Austin demonstrated all gaits and transitions. Again the judges went into great detail about what to look for and what was expected from an exhibitor. Last, but not least, was Pleasure Driving with Romeo of Villa Vanners. Romeo was a spectacular turn out and did an excellent job of demonstrating what a pleasure driving horse really looks like both in movement and in turn out.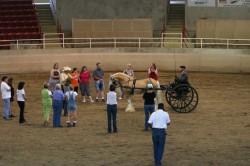 Hand outs included Show Rules in USEF format which included detailed judging specifications and practice patterns for different classes (showmanship, equitation, trail, driving, etc.), booklets on how to teach your horse to drive, and check lists for what to take to a show. We even covered what to wear for the exhibitor, what tack works best, and what grooming products worked best - all information you need to make your next show fun and successful.
A catered Mexican dinner complete with margaritas wrapped up the evening. The next morning Stillwater Farm held an open house and everyone got to meet the horses and continue questions and answers with the judges. It was beautiful morning complete with mimosas and a great end to a fun weekend.
Stillwater Farm plans on hosting other learner clinics and wants to thank all the participants for being a part of the First Faux Feathered Classic!