Summer Rose Shows her Stuff at the Christmas Parade
Summer Rose Shows her Stuff at the Christmas Parade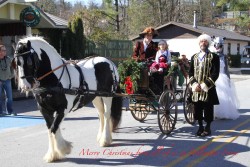 Summer Rose take Princess Emma for a holiday ride. Mark and Bonita, Princess Parents, are dressed for the occasion. Jacques, the Aristorat is our photographer. Summer Rose just learned to drive recently and did a fabulous job in the parade. You would think she had been driving for years! The camels didn't have anything on Stillwater Farm's parade entry! Go Summer Rose! Merry Christmas everyone from all of us at Stillwater Farm.
Sadie, CBear, Daisy, Bijou, Remy, Ceasar, Athos, Aramis, Summer Rose, Annie Rose, Poppy, Tia, Mia, Ruby, Heaven, Bruiser, Blue, Diva, Max, Olivia, Pumpkin, Zippy, DJ, Pearly King, Puccini, Da Vinci, Cailada, Venus, Gautama, Audaz, Shakira, Khaki, Donquixote, Sancho, Dink, Susie, Ellabella, Santabella, and Franchesca
Mark, Bonita, Carlos, Estelia, Jacques, and Robin
Merry Christmas to all and to all a good night!