SWF Tia's Royal Princess Reigns Supreme
SWF Tia's Royal Princess Reigns Supreme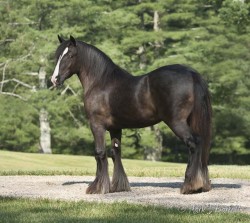 Pia stole the show this weekend in Pennsylvania. She took first in her conformation class; won the Mare Championship, and then won the Overall Supreme Champion Gypsy Horse over some serious competition including her stable mates. Mia took first in her class also. Summer Rose and April Rose went first and second respectively in their class. Summer won Reserve Champion Mare. It was quite impressive to have all four of our girls in the Mare Championship and we are just thrilled that Pia took Supreme. No yearling filly has ever taken a Supreme Championship at a Feathered Classic event. This is truly a first and we are so proud of our girl.
Pia also took first in North American Bred, Bred and Shown by Owner, and Solid Color. Mia and Pia received a first place for their dam, Tia, in Produce of Dam. Summer Rose and April Rose took a first for their Sire, Latcho Drom, in Get of Sire.
Summer Rose won High Point Performance Horse, High Point Gypsy Horse, and overall High Point Horse of the entire event.
As always, we enjoyed meeting new friends and seeing our old friends at the show. This was a new venue for the NE Feathered Classic and Gail Shrine, the show manager, did an exceptional job of making us feel welcomed.