We have some exciting news!
We have some exciting news!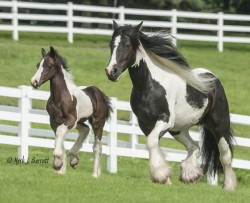 We think Bacio has the genetics, the conformation, and that "look at me" attitude that it takes to make a great stallion. Keep an eye on him as we bring him up as a future breed stallion. As you know with our program that is not a quick turn around. Bacio has to go through all his ground training, produce a minimum of two foal crops with distinctive "prescence" and conformation, and prove he is a talented athlete in order to stand as a stud in our breeding program. My bet is that in five years he will be one of the best stallions in the country.