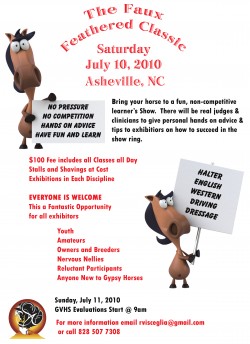 We will be hosting this fun learning show on July 10th at the Western NC Agricultural Center is Asheville, NC. It is a lovely time to visit NC. This is a real show with real judges. The major difference is that the judges will talk to you and give you pointers on how to best present your horse. We will have all disciplines; halter, showmanship, western equitation, english equitation, western and english pleasure, driving, dressage, and possibly saddle seat. There are three judges and several clinicians on hand to answer the question - 'why didn't I place higher?' Showing gypsy vanners is a different game than your other breeds. Whether you are experienced in showing horses in general and are new to gypsy vanners, maybe you are an amateur and are intimidated to ask questions at a live show, or maybe you just want to get an edge on your competition - this is the venue for you!
Judges are Wayne Hipsley, Jim Havelhurst, and Leslie Connor. Clinicians are Felicia and Marvin Britt. In addition we will have exhibitions in each discipline at the show.
In addition the GVHS will be having Evaluations starting on Sunday. Save time and money. This is a great opportunity to attend a fun non competitive show and stay over for the GVHs evaluations.