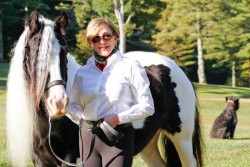 Stillwater Farm is owned and operated by Robin Visceglia and her husband, Mark Robbins. Robin has a long standing reputation for breeding quality horses. Stillwater Farm specializes in producing horses of exceptional quality and beauty. Robin has searched to acquire some of the best bloodlines available for breeding. At Stillwater Farm the tradition remains – Breed the best to the best and the resulting foals will represent exceptional investment value.
Robin has been breeding Gypsy Vanner horses since 2005. Her horses represent the absolute top quality Gypsy Vanner available in the United States. Her client base is small and select. They want only the best they can buy and many of her clients come back for additional horses. Robin guarantees her horses and is extremely careful in pairing owners with their new horses.
Quality, not quantity, has always been her main business focus regarding the horses. Avid supporters of animal rights, Robin and Mark believe that Stillwater Farm can only maintain a certain number of horses at any one time. Therefore, breeding for the sake of making more horses is not an option. Babies are carefully planned and lovingly raised. In addition to horses, the North Carolina farm has numerous other animals including llamas, miniature donkeys, goats, a 40lb rabbit, cats, chickens, ducks, peafowl and her most adored Bouvier de Flandres dogs. Robin and Mark are active with the American Bouvier Rescue League and keep a "herd" of three Bouvs, a Labradoodle, and one special beagle, Olivia Penelope.
In the non-horse world Mark is a retired business professional from the Great State of Texas and Robin is a successful real estate investor of 30 years. Most of her real estate holdings are in the Atlanta area where she was raised. Robin is also a Yogi and enjoys teaching Iyengar Yoga, TRX Suspension Training, and Spin. Of course, Mark has to take all these classes! It's a beautiful life on the farm!
Our Mission Statement
It is our mission to use the resources available to breed the best bloodlines available and raise healthy horses in a nurturing environment.
It is our mission to put the welfare of the horse first and foremost by providing the best nutrition and most up to date veterinary services, a healthy environment, and compassionate training.
We will not participate in embryo transfer programs whose sole purpose is to reproduce duplicate bloodlines.
We will not use or permit use of any harsh or inhumane training or treatment of any of our horses.
It is our mission to be successful in placing horses with new owners who will do their utmost to respect and care for them as we do.