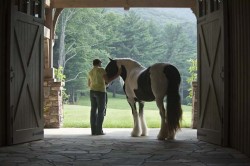 Stillwater Farm is located in Cashiers high in the mountains of the western North Carolina situated on approximately 50 acres of land. There are about 20 acres in pasture and also another 20 acres of pasture from our adjacent neighbor. The orginal house, built in 1905, is the main house. There are also two guest houses, a caretaker house, several outbuildings, garages, two ponds, a palais de poulet, a greenhouse, and a new state of the art barn that has completed after almost three years of construction. The new barn is part of a complex consisting of a guest house, office, courtyard, five car garage, and practice arena. The barn has six 12 x 12 stalls, a staff kitchen, tack room, and bathroom. The new guest house has two bedrooms and a study and sleeps six comfortably. The other guest house sleeps four comfortably.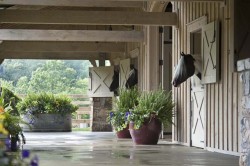 The new complex was built specifically for the horses and the owner's Bouviers. Workflow and comfort was paramount. It was designed by the owner and engineered by the architectural firm of Arch Images. Grala 2 Landscape Architects of Tulsa, noted for their equestrian work, helped with the initial site work and placement. The finishes are mountain vernacular, board and batten siding, poplar bark accent siding, and stacked stone complete with mill stones embedded in the porte-cochere and the barn floor. It is truly unique and innovative. It is reminiscent of the Biltmore Stables in Asheville. Only a true horse person would build a barn nicer than their own home. Obviously the barn was created with great care and foresight. The finest facility for the finest horses!
We welcome visitors and invite you to come spend some time with us and our horses, the village of Cashiers, and the surrounding area.
We hope to share our new facility and host many charitable events in the future. Please check out our schedule for more information.
Around the Barn
Please enjoy these select photos of our Farm. You can find more photos like these in our photo gallery.