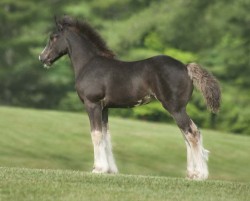 We have spent years of research regarding breeding programs and methods. Our methodology is based on Dr. Phillip Sponenberg's ideas on Conservation Breeding. The Gypsy Vanner is a rare breed and it is imporant to maintain a good genetic diversity within the breed. Small breeds present a challenge due to the limited number of horses. Horses themselve present another challenge in that a mare can produce only one foal per year. Then it takes another three years to really see what the cross has produced regarding quality of conformation, tempermanent and performance. In other words it is a long and expensive process for a horse breeder. We use line breeding and line cross breeding in our program. Line breeding seeks to concentrate the genetic impact of a single excellent individual throughout a herd. Line crosing is the breeding together of two different bloodlines. The genetic distance between the two lines will create a performance boost in the first generation.
Our desire is to provide our clients willing horses possessing structural correctness, balance, and self carriage with a striking look that can only be achieved through superior genetics and selective breeding. We feel this cements the possibility of a great future for each Stillwater horse, whether it is to become the next National Show Champion or the superstar in the local Christmas parade. There are general things we breed for: bone, size, feather, intelligence, and temperament. And then there are the specifics that, as a breeder, we work toward: small ears, kind eyes, clean throatlatch, and a refined head are just some of the things we breed for. There are also certain "nicks" that are better than others. Certain mares breed best with certain stallions. Again, it takes time to develop a good breeding program for a recognized older breed. For a new breed there are many additional challenges.
"One of the most important aspects of breeding is accurate identification of sires, dams, and offspring. This is the information needed to make intelligent and wise breeding and selection decisions. Accurate pedigrees and monitored performance of animals will demonstrate which animals are truly excellent and can improve a population. It is the wise and talented breeder that uses accurate pedigree information to a good advantage." (Dr. Sponenberg)
We hope you take a look at our horses and our breeding program if you are thinking about investing in a Gypsy Vanner Horse.