Halter Gypsy Vanner vs. Performance Gypsy Vanner
Halter Gypsy Vanner vs. Performance Gypsy Vanner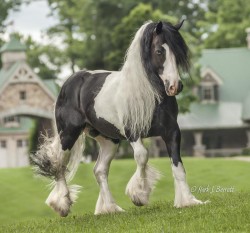 I am personally so familiar with Weight Watchers that I do not even have to refer to the Points Plus book any longer. I have lost the same twenty pounds over and over and over. Now I have some of our horses on our version of horsey Weight Watchers. We have a large herd and we are constantly monitoring their weight, their work, and their show schedule. Gypsy Vanners have draft blood in them and they are supposed to look like smaller Shire type horses per the GVHS Breed Standard. However, they are not supposed to look like a moose on steriods. So what is in between?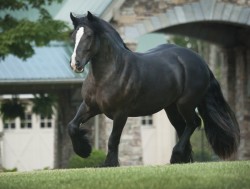 Here is a picture of Mia when she was showing in halter - and she is too heavy for performance work. For Stillwater Farm we evaluate each horse individually regarding their weight. If that horse is in performance training they cannot keep any extra weight on. If they are too heavy they cannot move. They need to bend and flex and be light in the front. Light moving does not mean light in weight. But, there is a happy medium that we try to achieve with the performance horses. On the other hand, our broodmares need to maintain their "heavier" weight to nurish those babies they are nursing and the babies in the oven. Regardless of their weight, they are all fit. Fit means buff, no flab.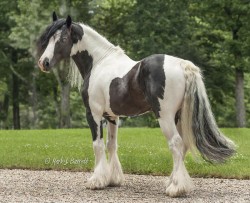 Doesn't it look like DJ is asking if this picture makes his butt look big? Some might think he in underweight here. DJ as a good example. DJ has shown since he was a baby and showed in halter up until he was four years old. He is now seven years and is a mature performance horse working in dressage training five days a week. He is fit and handsome and looks perfect weight wise. We thought about showing him in halter this season as well as performance. Out comes all the stallion tack. We tried it on and we could not believe that it was so big for DJ. He used it as a three and four year old and now it just hangs on his frame. What happened? He grew up and started working.
Now comes part of the management process I go through at Stillwater. Do we start putting the pounds back on DJ to show him in halter so he can compete with the big heavy stallions or do we leave him where he is. You have seen them, pushing themselves to the trot and lugging along. My decision is to leave him where he is. I want the horses to be PERFORMANCE horses, not pasture ornaments. So he might look light next to one of the heavier horses. But, he can move with fluidity and lightness on the forehand.
It is great to have the judges agree that Stillwater Gypsy Vanners have great conformation by their placements in the Halter Classes and you will see our youngsters in those classes at the shows. Dj has been there and done that. Now we will be concentrating on his performance training and loving his great babies! He has passed on conformation and movement to all of his outstanding foals. We could not be happier!
In hand and halter classes as a youngster and performance classes as a mature horse - that is Stillwater Farm's philosophy regarding our show horses.
I'm hungry, gotta go.......