Highlands Christmas Parade
Highlands Christmas Parade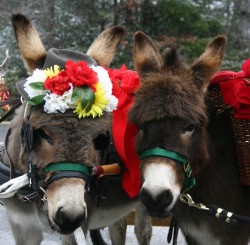 Stillwater Farm was well represented in the Highlands, NC Christmas Parade.
The day started out snowy and blustery with temps in the upper 20's. Burrrrr! We packed up and trailered 30 minutes to one of our local Christmas parades. Ellabella, a mini donkey, was ready with her cart and princess, seven year old Avery. Franchesca, another mini donkey, was ready with her antique basket full of goodies. Summer was groomed and ready for her first parade.
Summer acted like the pro she is. We decided against the bells mainly due to the donkeys being a bit nervous with all the ringing. Of course we are lined up at the back of the parade due to the possibility of a missed poop scoop. And here comes the camels! Yes, camels complete with a donkey (regular size) and Mary and Joseph. Summer walked right up to the camels and they all met, sniffed, and acted as if this was no big deal. I wish I had the camera at that moment. Only a Gypsy Vanner could be totally unfazed around a camel! The owners told us of their first experience with their 18h draft horse when he first saw the camels. They described it "like a tornado had swept through the barn." The horse had destroyed the stall front and made his own exit through the barn. The owners were shocked that Summer acted as if this was ordinary.
Finally the parade started moving and the donkeys headed out in front of Summer. We were following our friends at FairwayFarm, who train their llamas to be golf caddies. No mishaps and no trainwrecks! Summer was so beautiful. The donkeys were adorable. Ellabella wants a new hat for the holiday season.
We all had lots of laughs and tons of fun! Play time is serious business at Stillwater Farm! Happy Holidays!