Pia and Mia Take Reserve Championships at the Spring Feathered Horse Classic
Pia and Mia Take Reserve Championships at the Spring Feathered Horse Classic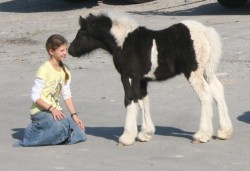 We all had a blast at the show. But, I think Blue My Mind has the most fun showing off and meeting new friends. We took the young ones this trip and left the big girls at home. April Rose stayed home with her baby and Summer Rose is taking a well deserved break from the show ring. Mia and Pia showed in the 2 - 3 Year Old Mare class. Marvin showed Pia and took a first in the class and then she won Reserve Champion Open Mare. I showed Mia in Amateur 2-3 Year Old Mares and Mia took a first in her class. She then went on to win Reserve Champion Amateur Mare. There was a beautiful mare, Maya, from Emerald Wind that won the Mare Championship both Open and Amateur. She then went on to win Supreme Champion Gypsy at the show proving that sometimes, Girls Rule!
Annie Rose and Blue My Mind went along for the ride to Tennessee. We like to take the babies out and get them used to all the buggers we encounter at the show. Speaking of buggers, Ruby also went to the show for a little training time where she encountered every kind of "scary" thing in the world. Both Mia and Ruby did great while at the show. Next time they will probably make it into the show ring.
Marvin and Felicia did another wonderful job of presenting the Stillwater Horses to the public!