Purchasing a baby in utero?
Purchasing a baby in utero?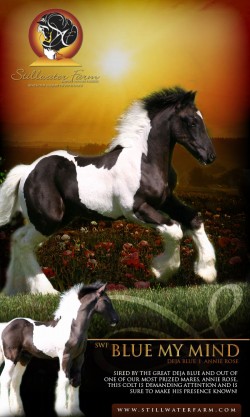 One of the biggest drawbacks to purchasing a baby in utero is the sex. What if you are hoping for a filly and you get a colt or vice versa? At Stillwater Farm we take those worries out of purchasing a baby in utero. For starters, we price colts and fillies differently, usually it is $5,000 more for a filly. So if you are interested in getting a Tia filly and you end up with a colt you have several options. You can pay less for the colt or you can pick another sale filly. The babies are not weaned until 5-6 months of age so you have time to "change your mind" if you decide you like another foal. One of the best parts about purchasing in utero is the easy payment plan. For an example, you want a Poppy/DJ 2012 baby. A colt will be $15,000 and a filly will be $20,000. All you need is a $5,000 down payment, $5,000 when the baby is born, $5,000 (or $2,500 if it is a colt) when the baby is three months old, and the balance when the baby is ready to go home. You will basically have until next fall to pay for your new Stillwater baby. You can also come to the farm and spend time with your new baby before they are ready to go home!
But, what if something goes wrong? We take the risks and worries until that baby is weaned. We guarantee you will get a healthy baby or your money is fully refundable.
In addition, Stillwater Farm, also offers our usually return policy. We guarantee our horses and we guarantee that you will be happy with that horse.