Taste of the Plateau Patron Party
Taste of the Plateau Patron Party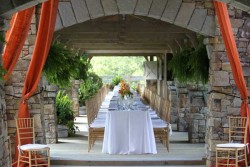 Thanks Wendy and Pat Carlton for all of their hard work to help put this party together. It was such a lovely evening for everyone. I think we raised over $50,000 for the school! Chef James Boyce from the Cotton Row Restaurant in Huntsville, AL was such a treat to work with as was his wife, Susan. I can still taste the ravioli! Yum! We sat 85 people on the barn porch overlooking Stillwater Farm. Summer Rose, Mia, and Diva looked on as Kim Phillips (our wonderful employee!) drove her gelding Malachi around the property. Kim did a fantastic job with the carriage rides! I can't begin to thank all the volunteers who made this possible. But, I would like to especially thank Maxine, Jeff, Terri, Brenda, Doug, Shari, Gordon, Thomas, Kay, Trooper, Stephanie, and Jane.
Thank you to the guests who bid on the beautiful plein air painting by Jane Smithers of the party. Jacques and I were presented with the painting at the end of the evening as our "thank you" for hosting the event. We were overwhelmed by the thoughtfulness of that. The painting is on display tonight at the Summit School Party. I'll take a picture of the painting when we get it back and post that.
Thank you patrons for your generosity for the Summit Charter School!